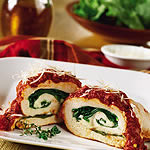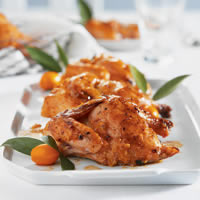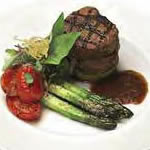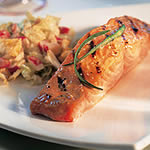 Chicken Pin Rolls
A terrific way to make a lasting impression and create an elegant meal. Succulent boneless chicken breast, wrapped around sautéed mushrooms, pesto, cheese, white wine and a touch of stuffing, in a wine reduction sauce.. (allergy alert, this item has a nut content).
$13.00 Per Person
Rock Cornish Hens
This exceptionally tender meat is slow roasted in a rosemary citrus marinade and toped with a mushroom-shallot-chestnut sauce. (allergy alert, this item has a nut content).
$16.00 Per Person

Filet Mignon
We only use certified Angus prime grass- fed marinated beef. Choose a 6 or 8 ounce serving, bacon wrapped red and white skinned potatos oven roasted with rosemary.
$16.00 – $18.00 Per Serving
Grilled Salmon
prepared in a white wine, spinach leaves, Spanish onion, fresh dill, parsley and basil.
$12.00
Tilapia
Pan seared and delicately infused with pear and fresh herbs (dill, parsley and rosemary). Or, enjoy it with a Mango-papaya-pineapple chutney.
$12.00
Orange Roughy
A delightful orange sauce covers this tender and moist grilled fillet.
$12.00
Sea Bass Fillet
This delicate fish is pan seared and prepared in pineapple chutney with fresh dill and cognac reduction.
$13.00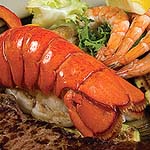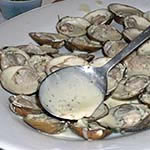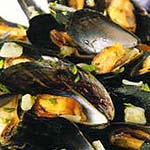 Lobster Tail
A three ounce tail drizzled with butter, sprinkled with parsley, garlic, and seasoned with sea salt and pepper. A master piece!
$20.00 per person
Shrimp
Delectable large sized tiger shrimp are peeled, well seasoned and covered in your choice sauce.
~Classic Marinara Sauce ~Cream and Wine Sauce~Southern Style
~Caribbean Style ~South American Style $11.50 Per Person
White Clams
Delicious and tender these clams are covered in a white wine, cream and shallot sauce and topped off with fresh parsley.
$11.00 Per Person
New Zealand Mussels
These mussels are the largest around, served in a dinner proportion. Choose from marinara, white wine or pernon with cream sauce with butter and fresh shallots. Served with warm fresh bread and an oil and herb dip.
$16.00

Pasta
Your choice of Spaghetti, Linguine, Penne, Fettuccine, Manicotti, Cannelloni, Cheese or Meat Ravioli/ Tortellini, Angel Hair, Bow Tie, in a White cream, Marinara, Herb and grape seed/ extra virgin olive oil, Rosé, Tomato or Tomato basil sauce.
Served with fresh parmesan cheese and a bread roll.
$9.50 Per Person

Meat sauce is available at an additional cost of $1.00
Lasagna
Four layers of delectable meat, four types of cheese and fresh tomato sauce. You can choose from our lean, veggie or turkey lasagnas…we have them all! Served with a bread roll.

$8.50 Per Person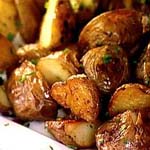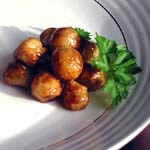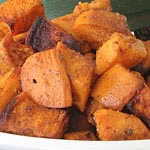 Experience a medley of flavour in your mouth!
Wild Rice and Brown Rice
Risotto-Mushroom or classic
White Long Grain Rice
Sautéed Mushrooms
Pasta Salads, warm all varieties
Sautéed Peas, Onions and Mushrooms
Roasted, Scalloped or Mashed Potatoes
$3.00 Per Person
Red and white potatoes
These look great and taste even better!
Red and white skinned potatoes cut in halves are roasted to perfection
with a crispy layer of marble cheese and topped with chives.
$3.00 Per Person
Parisian Potatoes
Cooked in a white wine, shallot and butter sauce and delicately seasoned, these
potatoes are a must have.
$3.00 Per Person

Prange Yams (Orange and Purple yams)
These root vegetables are not only a phyto-glyconutrient food they are truly
great tasting "good" food. Oven roasted in fresh herbs and lightly coated in truffle oil .
$4.00 Per Person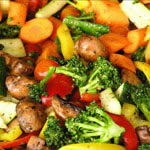 Vegetables selection
Carrot, Broccoli, Chard, Fava Beans, Green Beans, New Potato, Peas, Rapini, Zucchini
$3.75 Per Person
Our Vegetables - Cooking methods used to create the "cooked to perfection" veggie is achieved by steaming, grilling, baking or flambéing our very fresh vegetable selection, for no more than five minutes. This keeps the texture, vibrant color and nutrients locked in for your enjoyment.
Please note that our vegetables are seasonal.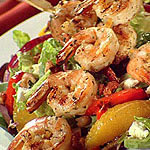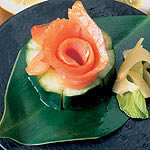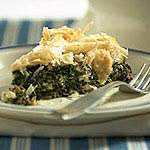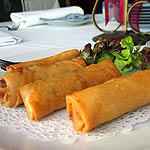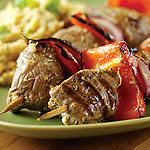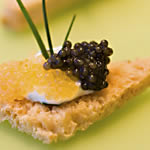 Sensational Shrimp Skewers
Crunchy breaded shrimp with fresh coconut, lightly seasoned with white and black sesame seed, sea salt, white pepper, dill and coriander. Served with three types of dipping sauce.
Shrimp Cocktail
Large-sized Tiger or White Shrimp, perfectly arranged in an oversized chilled martini glass and served with a classic cocktail sauce and lemon twists.
Crab Cakes
Fit for the South! These crab cakes are mouth watering and difficult to resist. Divine crab cakes are made with only real fresh crab. Generous amounts of king crab are found in every bite. Served with spicy ranch sauce and fresh lemon.
Divine Signature Salmon lox rolls
Our authentic lox rolls are fresh, flavorful and tender. Salmon rolls are wrapped around the finest and freshest cream cheese with crunchy cucumber strips inside and elegantly tied with baby organic chive. Lastly, jalapeño shreds are placed on the top to add visual appeal and a hint of heat. Bringing texture to taste, now that is simply divine!
Spinach Pie
These square pies made of spinach and feta cheese wrapped in warm and crispy phyllo pastry leaves.
Crispy Spring Rolls
These little rolls sure to know how to bring a party together. Delicious glass noodles, fresh veggie strips and Asian seasonings, wrapped in a crispy roll.
Mini Quiche
This one is for all of you quiche lovers…choose from Veggie, Bacon and Mushroom or Three cheese, Ham and chive. We are confident that you haven't experienced quiche quite like ours!.
Mini Burgers
These miniature sized burgs are the latest craze in the world of food. This little creation is not only visually appealing…it's delicious and filling. Four burgers are ideally for one individual as an appetizer. Soy and Nature burgers are available upon request. (Condiments are included).
Kebabs
These little treats are simply divine! Choose from Black Angus Beef, Turkey, Chicken, Pork, Herbed Tofu and Veggie. Try it with our warm crusted "pocket" bread filled with a warm and cool dip to compliment each type of kebab and you'll cause quite a stir!
Bread Pockets
Authentic warm stuffed bread, ideal for dipping kebabs. You receive two large sourdough breads and a pumpernickel bread filled with warm triple cream brie and havarti cheese, or sun dried tomato, fresh herbs and olive oil with pieces of seedless olives and garlic. Or try a cool, cucumber and yogurt or dill sour cream dip, presented in the centre of the bread.
Caviar/Lumpfish
We offer black, red, orange and/ or yellow caviar. Served on a chilled tray with premium toasted triangle toasts.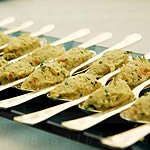 Divine dips are delicious, appetizing and appealing.
Try our cool dips:
Roasted Red Pepper
Hummus
Vegetable
Guacamole
Goat cheese
Yogurt
Cucumber
Dill

Try our hot dips:
Spinach and Cheese
Asiago and Avocado
Lobster and cheese
Three cheese and wine
Blue Cheese and sour cream

Dips are served with Pumpernickel bread crostini (thin crisp toast) and crispy white pita triangles and blue, yellow and red tortilla chips.
Please call for individual and group pricing.

Desserts
$5.00 Each
Crème Brulee
Mango Pie
Fresh Pastries
Fruit Custard
Berry Tart
Mango Pie
Pecan Pie
Almond, plain or vanilla and chocolate swirl cheesecake
Chocolate and Vanilla Swirl Mousse
Tiramisu
Chocolate Cake
Vanilla Cake
Cheese Cake, all types available
Crepes with custard, apples and cinnamon cream cheese or warmed fruit and puree
Divine Cupcakes - rich and moist!
Twelve $30.00
Twenty four $55.00
Forty- eight $100.00
One hundred $160.00.

Choose from vanilla, chocolate or swirl.
Your icing choices are pink, red, white, purple or yellow.
Avoid the mess of cake with Divine Cupcakes, simple and quick to serve.
Candles are included.